Forum Postings 2001 May
http://www.mircx.com/cgi-bin/forum.cgi?forum=Tracked
collected and (very little) formatted by addie walti
---

Threads
The start of a thread is on top right below the title
venetian (from TE sanity check)
CC Line (Again)
Displaying the lower half of the horizon
CC Line Problem
Fences visible through the track
Track sections (limit of)
Street circuits and Monaco
Importing Objects into the GP3 trackeditor
Location code type E
tracks under the length limit
Zero length track sections? (from track sanity check
How to move a split time
modify internal objects in GP3 track editor
location code F
Changing Bumptable
changing direction
Objects Gp2/Gp3
problems with first track section
Trees (from other tracks)
Trouble starting GP3
I see it all (objects bleed through fences)
Problems with the start of the pit lane fences
Grass in the Pits
Curbs with "saw effect"
Problem with parking zone(gp2)
---
venetian
Posted by Kev C from 62.7.16.55:

Hi I am nearing the end of a long job working on Snetterton
But I have a few bugs to sort I will only ask about help with one at the moment.In the track test I get a FAIL (Venetian effect) but it does not make the track crash out to Windows,however I do get a see through section near the start finish line on the track. Its like a hole in the ground.Question how do you stop this and why is it happening?
Thanks Kev C.

Posted by addie from 194.191.82.27:

hi kev

this problem is known, but unfortunately i cant recall the solution at the moment. john (verheijen) do you copy ?

the "venetian"-thing came from editing for gp2. if the pit-track-fence-connections at the pit entry or the pit exit were positioned to near the s/f line you got thin horizontal stripes on the screen if you had your track in specific slots. but this should no longer occur in gp3.

btw could you fix the problem in the meantime ?

addie

Posted by John Verheijen from 213.84.79.68:

you must change the values of the 0x9c Cmd in ts0.
Try some values of other tracks.
Then this problem can be solved.
I had the same problem with Zandvoort, but after I changed
0x9c, the problem was gone.

John
Posted by Kev C from 213.122.238.253:

All sorted many thanks guys.
Kev C.


---
CC Line (Again)
Posted by Steve from 199.228.142.6:

Does anyone know of a tool where the CCline you draw matches what happens in the game? I'm currently using the otherwise excellent GP3TrackEditor, but having to constantly try and guess angles/lengths is threatening my sanity.

Posted by addie from 194.191.82.27:

i'm afraid there does not exist such a tool. there is no way around making it on your own. sector by sector.

addie
---
Displaying the lower half of the horizon
Posted by Kent from 213.104.171.115:

Hi all,

I wonder if anyone can help me, I am having problems trying to get the lower half of the horizon visible from the trackside cameras.

I don't seem to be able to activate this part of the cameras even after fiddling the unknowns.

Posted by addie from 194.191.82.27:

you see it from the cockpit ?
Posted by Kent from 213.104.169.81:

Yes Addie, you can see it from the cockpit it is just the trackside cameras that cannot see it. I have another problem with the trackside cameras and the lower half of the horizon , I have made the software jams for my new Kylami track but when I test the track I can see the lower half of the horizon from the cockpit the same as when using hardware jams, but the from the track side cameras it goes all weird, it does not even display a green band like the hardware version does.

You can download the hardware version of my Kylami track from:
www.ksw-home.co.uk
I will send you the software jams if you want to have look at those as well.

thanks
Kent
Posted by addie from 194.191.82.27:

i'd say at least the reason for the troubles with the HW-version is the same as with the SW-version. it just looks different, as the versions are implemented differently.
but thats no solution so far :)

you could look out for similar conditions in original tracks. i mean, you could look out for trackside-cameras in original tracks that properly show the "sub-horizon". in those cams you could check the unk-values and compare with yours. and there are tracks with cams with more args than others, maybe here also is a difference ...

if you find out anything, please post it here. i'd be glad if you could make the tests and research by yourself for the moment. and i'm sure we will find the solution, if there is any.

addie

Posted by Kent from 213.104.168.52:

Thanks Addie,
I will keep trying and look at the original tracks like you said.
Thanks again

Kent
Posted by Flo from 62.158.65.30:

I took a look at your screenshots. I think the problem is the general track height. If you change this height, the horizon should fit perfectly.
Posted by Kent from 213.104.169.110:

Thanks Flo,
I will give it a go and see what happens.
Kent
Posted by Kent from 213.104.170.14:

I have managed to fix my problem with the lower half of the horizon.

I added a 0xcc Horizon adjustment command with -300 in the a3 arg in Ts0 and it has hidden the lower half of the horizon.
---
CC Line Problem
Posted by Dominik Dziatzko from 62.104.216.83:

i'm trying to construct my first GP3 Track of my Hometown.
But i have Problem with the Sign-Argument. i need to build a very wide and long corner. But gp3 freezes if i'm going to try it. without sign argument it works perfectly

Posted by addie from 194.191.82.27:

gp3 freezes probably because "the cc-line went haywire". its called haywire because in gp2 in the same situation the program did not freeze and you could see the haywire on the track.

a cc-line goes haywire if it is "too much aside the track". as long as the cc-line is on the track its ok, if its on the gras maybe its still ok, maybe its already haywire. the limits are not really known there.

setting the sign-argment you basically tell the cc-line sector whether its a left hand or a right hand curve (or straight if you have no radius)

for setting up sign and radius values see cc-line guide on my page http://www.grandprix3.ch/TEIC/index.html follow writings

addie
---
Fences visible through the track
Posted by Ross from 149.157.4.153:

Hi all,
I have a problem with the graphics in my track. I have the track climbing up a hill towards a hairpin bend. Just before the bend I level the track a little. When driving on the track the fences that should be out of view over the crest of the hill are visible through the track. It looks terrible and I was wondering if there was anyone who could give me a hint on how to fix this.
Thanks,
Ross

Posted by David Schneider from 213.3.142.87:

Have the same Problem, and have a look at Belini Brands Hatch, i think there is the bug too.
Posted by Kent from 213.104.169.142:

You need to insert a d0 stabilize textures command in the section of track which is see through with -1 in both the a2 and a3 boxes.

I hade this problem on my Kyalami 2001 circuit I am currently working on. It does not seem to cure it completly but certainly improves it!

I seem to remember reading on this forum that you sometimes need to insert a d0 command in every track segment of the problem track section so say your track section is 10 units long then you need to change the a1 box if the d0 command to 0 for the first command, 1 for the second command and so until you reach 10 in the a1 box of the last d0 command in your track section.

Hope this helps

Kent

---
Track sections (limit of)
Posted by Ross from 149.157.4.153:

I was wondering if there is a limit on the number of track sections that can be placed on a track.

Posted by addie from 194.191.82.27:

hello ross

there is a limit but i dont recall it in detail. but its beyond every number you may want to insert in a track. so far the greatest number of sectors were 250-300. and the limit is way beyond that.

before reaching the limit of tracksectors you will have to face the limit of tracklength and/or the limits of the gp3-world. the lengthlimit is 1648 track length units (see http://www.grandprix3.ch/TEIC follow primers, known limits)
and the limit of the gp3 world can be seen in the TE of paul hoad (menu show-show world extend o.s.s.)

i hope its useful info
addie
---
Street circuits and Monaco
Posted by Simon from 139.133.7.238:

Hi,

I am about to begin construction of my first GP3 and I have a couple of questions. As it is going to be a fictional street circuit, I was wondering if these were any tips that you guys could give me to complement Addie's and all the other guys' tutorials. I know from reading some posts in the past that Monaco is different from other tracks in some of the ways that it is built. What ways is it different and how much of a problem do these create? Like for instance is the pit building still a bmp on a shape like in GP2 or is it an actual construction? Anything else that anyone could think of would be very appreciated.
Thanks in advance,
Simon

P.S. Is the London GP track still going (Whitehallring?) and if it is how is it going?

Posted by addie from 194.191.82.27:
hi simon

indeed the monaco track features a few specialities in the trackfile. some track-cmds you see but there, the construction of the pit building you mentioned, etc. from the trackeditiors point of view looking for a basetrack for his/her own creation monaco has a big difference: it (together with melbourne) includes loads of object-shapes (aka internal objects).
and as most of them you probably wont use in your track, and as the space for new objects is limited and removing object-shapes is highly risky, you may want to choose another track as a base.

in the choice of base track you are free, even if your track will be a city track, as in every track you have scenery ribbons and object-shapes to decorate it, they all share that property. the limitation is, removing object-shapes is pretty risky and the space for new object-shapes (read: imported object shapes) is limited, actually its the filesize that is limited to some 140000bytes IRCC.

as for the pit building, if you take monaco as a base and would like to have a regular building anyway, you should be able to import one from another track.

i'd say there are no special tips for making a street track, except maybe its even more important to make a save backup (duplicate the file, o.s.s.) before making something you are not completely sure about (which will be the case most of the time, at least with me).

i hope its useful info
addie


---
Importing Objects into the GP3 trackeditor
Posted by Kent from 213.104.168.240:

Hi everyone,

Just a quick question, does anyone know how to import objects into the GPE trackeditor, I know you can export them, but I can not see anyway to import them.

I need to import some objects from the other tracks for my Kyalami 2001 for GP3.

Maybe Paul has not activated this part of the GP3 trackeditor yet.

Posted by addie from 194.191.82.27:

menu "object/jams" / "insert new internal object". then choose a gpo, thats it. you have to press F5 to refresh the track tree to see the new object there ...
Posted by Kent from 213.104.168.120:

Cheers Addie,
I can now add the objects I need, this was holding back the development of my Kyalami track quite a lot.
Thanks again,
Kent

Posted by addie from 194.191.82.27:

i assume you know how to watch them in the TE ?!
first left-click then right-click it in the tracktree and choose "view 3D object" to get a 3D view of the object in a new window. by dragging the object with the mouse it can be rotated. try also holding-CTRL-key when dragging. by pressing the buttons "fill objects" and "texture map objects" in the objects-toolbar you even can show the object W its textures. though this does not work 100% its still very handy.

notes
-if you change some coordinates of the object, you have to rotate it first in the 3D View to see the changes.
-if you change a texture or a repetition of a texture, you will have to save and load the track to see the changes. (if anybody knows about a shortcut please notify me!)

happy object editing !
addie
---
Location code type E
Posted by Augusto Dewey from 24.232.1.206:

I need this location codes to use with the comand 0xbf. In the last TE command library it looks incomplete, if someone can help me ...(and i think it is usefull for all people out there) Thanks in advance

Posted by OGD from 213.3.142.99:

Code
Description Code
Description
0
Default (All ribbons)

1
Right verge 2
Left verge
4
Right fence 8
Left fence
16
Right bank 32
Left bank
Posted by Augusto Dewey from 24.232.1.206:

Ok, that´s are the values that are in the Command library, but there are other values that are used 15,63, what are they location? Thanks anyway

Posted by Hernán from 200.69.65.47:

Hi,
1+2+4+8=15
1+2+4+8+16+32=63
Just add the codes of the parts if you need to use more than one.
Hope this helps.
Saludos!
Hernán.
---
tracks under the length limit
Posted by mark webber from 198.142.200.243:

Is there a program out yet so
we can make 1 mile ovals work
in gp3.Made milwalki mile but
it always crashes back to windows.

Posted by Bob P from 206.47.244.60:

Yes, the GPXPatch and the C-magic tool.
get the GPXPatch here http://www.xs4all.nl/~rsdi/
get the c-magic here http://home.wanadoo.nl/locutus/


---
Zero length track sections? (from track sanity check)
Posted by Mark Egan from 213.123.66.151:

I have a problem this is my first Forye into track editing so I'm, a beginner but I'm getting this failed in the sanity check Zero length tarck sections FAIL

So how can I fix this our is the track driveable

Posted by Kent from 213.104.168.179:

Easy,
Look in the track tree for sections that show a length of 0 then remove them.
If you are not sure how to do this, email me the track and I will have a look for you.
---
How to move a split time ?
Posted by Thomas Hesse from 213.56.225.155:

I've been searching in TE for this but I can't figure it out.
What I want to do is move the 1st split time of A1-Ring from after the 2nd corner to before the 2nd corner.
Could someone help me?
Thx

Posted by Augusto Dewey from 24.232.1.206:

I am not completly shure but with the track i am working it is ok. After load the track in the menu of the TE choose Track and then TracName (gp3info). You will see split 1 and split 2. Put the number of the cumlative lenght of the track where you want that the split time will be and i think that is all... HOpe this work...
---
modify internal objects in GP3 track editor
Posted by Sandro Branciforte from 192.92.126.136:

Criterios for assign the number of vertex to texture in track editor ?
---
location code F
Posted by Tim Courtney from 216.104.228.148:

hi i was wondering how to use this flickering commands in gp3 but couldnt find the list anywhere for location code F

please help!

Tim C

Posted by addie from 194.191.82.27:

hello tim

the location code type F is not yet fully discovered, neither for GP2 (as may be guessed in the cmdlib) nor for GP3, where there may have been changes to GP2 here. nevertheless i used the de-flicker-cmds pretty much successful in the bern-grauholz track by setting the args to -1 which is the same as 65535, which covers all possible bits of loc code F.

if somebody finds out more specific things, please notify me and/or post it in this forum, please.

addie
Posted by addie from 194.191.82.27:

shame on me, missed something. location code table F for gp3 is well defined ! woody spent hours finding the proper code, but somehow it got lost in the cmdlib. sorry woody, sorry all !
later the day i will post a revised version of the cmdlib on my page. stay tuned to the forum

addie
---
Changing Bumptable?
Posted by Carl U from 195.93.33.168:

Hello, I would like to know how to make the shorter GP2 track conversion work - those with less than 60 track sections. I have tried doing this with GPxPatch in debug mode but it still crashes. How exactly do I change the c-magic file to allow make the shorter tracks work? I know how to change the c-magic files 0 I have the c-magic tool. What Im asking is what part of the c-magic file do I change and do I make this value bigger or smaller.
Thank you

Posted by addie from 194.191.82.27:

if the track crashes despite debug-mode its most probably not a problem with the magic data. see the "trouble shootes FAQ" on my page for many possible reasons:
http://www.grandprix3.ch/TEIC/index.html

addie

ps
in the bumptable you have pairs of values, bumpvalue and a DFS (distance from start)-value. you have to take care the DFS value is ALWAYS smaller than the length of your track ...

Posted by Marc Aarts from 194.134.218.160:

There are instructions included in the zip that comes with CMagic

Posted by Carl U from 195.93.48.179:

Could you just tell me this? Should I make the bump table values lower or higher if I want to make tracks work that have very few track sections. Im trying to make some oval tracks work.
And how do I know what values to change them to, or is is just trial and error?
Thanks.

Posted by Marc from 213.196.15.64:

the "issue" is the amount of the left values. look at end of the bumptable and see something like :

...
678,1
700,4
720,1
760,2

this format is "tracksegment, bumpvalue"

tracksegment can not be higher than the length of the track. so if you make a bumptable to suit your track, never exceed the length of the track in the bumptable.

alternatively, if you want to remove the bumptable alltogether, just remove all values, except for one line with "0,0"

if you can't get this worked out, you could mail me and i try to give an example based on the track you are working on.
---
changing direction
Posted by Andrew Smart from 195.92.194.19:

how can you change the direction in which the cars go around the track without doing a whole new ccline or is it not possible?

Posted by Benetton from 195.186.138.17:

Without changing everything it`s impossible
---
Objects Gp2/Gp3
Posted by Warren from 198.96.83.118:

Hi all,
I don't have Gp3 yet but I'll ask my previously unanswered question again.
Are Gp3's "Internal Object Definintions" (aka 'Object Shapes') in the same format as those of Gp2 ?
Is the data organized in a similar fashion ?
Can I export/import either version's Objects back and forth ?

Thanks, Warren

Posted by addie from 194.191.82.27:

hi warren (jenks?)

dealing with them in the TE is quite similar, though a bit more flexible as the scales are gone and replaced by proper points.
porting object shapes between gp2 and gp3 is not yet possible. but export/import objects between gp3 tracks works.

addie


---
problems with first track section
Posted by Andrew Smart from 195.92.194.19:

how do you change which direction the first track section points

Posted by David Schneider from 213.3.141.11:

You find into the Tracktree a Part, named "Track Config". There you`ll find a Part named "Track Sections=XXX"(XXX means the number of Sections you have in this Track). There you`ll find "Track Start Angle". If the number is 0, the Track starts - this way. If you set the num. to 16384, the track goes Down. If you set it to 32768 the Track goes like this -

Hope u understand, and hope also that i understood the Question.

David Schneider

Posted by David from 195.186.136.32:

Ooooop the - should be an arrow, first time from left to right and second time from right to left......
---
Trees (from other tracks)
Posted by Azzuro from 62.104.204.81:

How can I put trees from a track to another track? f.e. putt the melbourne-trees in a new track based on A1 Track.

Posted by John Verheijen from 213.84.79.68:

Just import the Jam file.
But remember that you don't have double TextureID's.

John


---
Trouble starting GP3
Posted by Jonen from 146.230.128.29:

On starting GP3, an error message prompts.(something like DDRAW.DLL missing). But this file is on my harddrive.

Posted by Kev C from 217.32.129.64:

I have had this when launching gp3 from the button within the editor. Now I launch gp3 from the start bar then when I wish to go to /from editor I use the shrink to button in the top of gp3.




---
I see it all (objects bleed through fences)
Posted by Kev C from 217.32.145.37:

Hi has any one got an idea why a grandstand that was ok should now show through a fence section? Not all sections the one prior to it is fine.The stand has NOT had the show before fence checked.
Kev c.
Thanks.
Posted by addie from 194.191.82.27:

this is one of the worst problem in trackediting for GP3. if anybody has the waterproof solution, i'd love to learn it.

so far the only things that help sometimes halfway are inserting some cmds 0xd0 (see command lib for the details) in the sector in question or adjusting view-distance if its happening in the distance.

maybe you could look after similar situations in original tracks where an object does NOT bleed through the fence and then have a look at the unknowns in the object-setup (aka "object definition") of this object, maybe transfering these figures helps.

addie
Posted by Nathaniel Porter from 62.252.64.5:

I have this problem in my Indy oval pitlane- I caused this deliberatly by setting "Detail" on the stands that do this to 192 (Shadow) in the Object Definition Dialog.

Hope this helps

PS Anyone know how to fix Objects bleeding into objects nearer the track? I can send a screenshot if necessary.
Posted by David Wortley from 195.92.67.50:

Hi Guys, I'm not that much of a TE at the moment but I think I have a sort of answer for you.

I remember when doing some camera editing, in steven Young's Gp2edit, he had two values which were 'Unks'. I experimented to see what they did. I can't remember the exact values but this is what I found out.

I had a camera on the airbox, the problem I had was I could see the front wing through the nose cone. When I changed the values of these two Unks It sorted the problem, is it as if it is a kinda focus value, maybe this is the same principle for the objects through the fence,
I could be talking crap, I'm no expert but It's just an idea I had.

David Wortley


---
Problems with the start of the pit lane fences
Posted by Andrew from 195.93.64.176:

Hi, when ever I start gp3in debug mode to test my track I get the error that the pitlane fences start before the first pit sector, but the problem is they dont!, does anyone know how to fix this?

Posted by addie from 194.191.82.27:

the pit lane start is marked by a cmd 0x9f. the pit lane sector with this cmd has to be the first with the "pit lane entrance" checkbox checked in the track change dialog box which opens when you doubleclick a pit lane (or track-) sector. (see pit lane guide for more details)

when looking at the original buenos aires track (one of the all new GP3 tracks) it looks like you dont need NO checkboxes anymore anyway ! so you could try in first place unchecking all "pit lane entrance"- and all "pit lane exit"-checkboxes. could you post whether the track worked then ?


---
Grass in the Pits
Posted by Andy L from 62.253.64.5:

I have converted a few GP2 tracks to Gp3 but need to know how to change the verge the cars start from in the pitlane from grass into tarmac.

Posted by addie from 194.191.82.27:

see original tracks and watch out for cmds 0xe9 near the beginning of the parking zone
Posted by Speedee from 203.43.238.134:

Also note that they must be in the same order.




---
Curbs with "saw effect"
Posted by Andrew from 205.188.197.153:

Hi, could someone tell me how to get rid of the saw effect I get on curbs when goinng round the corner?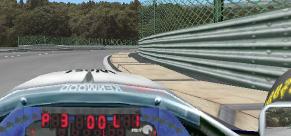 Posted by addie from 194.191.82.27:

in the command-library (could be found @ http://www.grandprix3.ch/TEIC/index.html; follow writings) you find a good description of robin de paus about how to deal with cmds 0x8e and 0x8f. i guess this should help ...

Posted by Andrew from 205.188.199.182:

I tried that addie and it offers no help to my problem, I really dont know what is wrong

Posted by addie from 194.191.82.27:

have you also tried to switch the kerbtype in the track change dialogbox (which opens when doubleclicking a track sector) ?

Posted by Andrew from 205.188.199.182:

Yeb it happens with both type A and B


Posted by addie from 194.191.82.27:

hi

the cmd 0xd0 turned out to be the problem there. andrew stabilized the scenery with many cmds 0xd0 in the tracksectors in question, and as a result of it the shape of the kerbs was falsified also. as soon as i removed those cmds the kerbs looked as expected. particular reason could have been, the arguments a2 and a3 of the cmds 0xd0s were all set to -1 (=65535) which means "stabilize everything". i also use (or better used) to do it that way, but now it looks like not to be the philosophers stone anymore.

maybe stabilizing of just the locations that need to be stabilized could prevent the kerbs from featuring the saw effect. in the latest command-library the location code type F is reinserted and complete as far as i can see.

andrew, in case you go after this, i'd be glad if you could post the results then.

addie
Posted by Olivier Saussez from 217.136.40.108:

Damn, I always thought this kerb thing was a GPx original bug... maybe it could be used to get some fun visual effects.




---
Problem with parking zone(gp2)
Posted by AAS from 212.185.248.183:

When the computercars leave the
pit, they crash the rear off the
car standing before.
Can you help me please
Thank you
AAS

Posted by addie from 194.191.82.27:

you are sure the pit lane is "long and wide enough" ?
Posted by AAS from 212.185.248.186:

Thank you Addie
I have tried,nothing helps.
Another problem:
The computercars stop some meters before their pitcrew.
Have both problems the same reason?
The base for the track is your basetrack (Base_BoxR).
And there the ccs stop early ,too.
Do you know about the problem with your basetrack?
Any idea?

Posted by AAS from 212.185.248.185:

i have now a complete new pitlane.
Problem solved!
Addie, do i need your permission for contribute
a track based on your basetrack?
AAS

Posted by addie from 194.191.82.27:

i wasnt aware of the mentioned problem in my basetrack, thanks a lot for reporting !!
could you send me a copy of the fixed track so i can compare ? it may help me find the very reason for the problems.

no you need no particular permission for contribute a track based on a base track of mine, but i'm very glad to get notified about it.

addie
Posted by AAS from 212.184.157.128:

another test another result.
with a fresh installation of gp2 both tracks (basetrack and my new track with the old pitlane) works fine.
Don't know why.
Thank you for the support
Andreas
Posted by AAS from 212.185.248.186:

Error in the gp2.exe.
After some changings
(old exe, new exe in old/new installiation of gp2)
i'm now sure.
Sorry for the confusion.
AAS




---
The Sun (location) ...
Posted by Tom C from 195.44.20.2:

I saw the sun! In a race at suzuka, just before the 130-R a car was flipped up in the air, it pointed straight at the sky and a white circular "thing" was in the sky above me as viewed from the cockpit. I have a replay, if anyone wants a look.....

Tom

Posted by Andrew from 205.188.199.26:

the skys your using
Posted by Tom C from 195.44.14.159:

I'm using the original skys

Posted by Kid Jensen from 203.108.191.45:

Same thing happened to me, lol! It happened at Hockenheim, just before the 3rd chicane. Is the sun 'over the top' of you at this point? I'm not sure ...

Posted by addie from 194.191.82.27:

from the trackeditors point of view the position of the sun is adjustable. there is a trackcommand 0xbd where you can set direction (0..360degrees) and angle above horizon. these settings affect the lighting of the track and cars but i dont know whether it also affects the position of the sun (the image of it as you saw it; i dont recall to have seen it so far, only reflecting on the car) ...
addie

Posted by Tom C from 195.44.14.159:

As best as i can tell it was about where the sun was supposed be



---
Index
end of list