Forum Postings 2001 October
http://www.mircx.com/cgi-bin/forum.cgi?forum=Tracked
collected and (very little) formatted by addie walti
---

Threads
The start of a thread is on top right below the title
Far Sight and View Distance struggle!
verge problem
Magic data in gp32000
Why GP3 doesn't accept my CC-line?
orange cockpits on gp2 (color palette subject)
gp3 grip factors
What is the F1ctl*.dat files?
Banking chaos
Jams TOO transparent...
OK another nightmare :)
to AD about cmd 0xdd
jam editor filters
Street circuits
Kerb Types
Floating Pitlanes
Pit section number 0
Removing skidmarks
fences-height
Few Probs (can't find track file)
Kerbs
Major CC line problem
Objects behind ribbons?
CC-line out of the window!?
converting SW jams to Hw jams ???
pitline doesn't works
GP2 defined object not showing
New limit found!
Max. size of track file ?
---
Far Sight and View Distance struggle!
Posted by starchild from 62.7.105.35:

I am workin on a Reims track and there is a part where u go over the crest of the hill and u should see a lovely view of all the scenery ahead. There are 0xc5 and commands here so u can see the faraway grandstands etc, and u can see the first part of scenery, but there is a big gap in the middle, I have been working at this for hours now and just cant make it show up, there are also View Distance Ahead and Extended view commands set to 255...
Here is a screenshot so u can see exactly what i am talking about!
http://retrogp3.grandprix-x.com/screenshots/reims.jpg

Posted by Knuckles from 202.67.82.55:

I think you will find that this is caused by having your view ahead distance too far. I found a similar problem whilst developing Magic Mile. It seems you can only go about 50 or 60 units beyond the track without getting this sort of problem.
---
verge problem
Posted by mindprobe from 193.137.220.3:

I have a problem with a left verge before entering a bend, this bend is uphill from the corner before until the corner after, and the left verge before the bend was suposed to be uphill until the fence and driving on the road it looks like that but if you go to the verge it's not uphill but plan.

How do i get the verge to behave like a uphill verge until the fence?

thanks!

Posted by Schubert from 203.197.56.101:

AS FAR AS I KNOW, I don't think its possible for us to manually change the slope of the verges.

However you might want to change fence dist values and see if anything changes.


---
Magic data in gp32000
Posted by Augusto Dewey from 24.232.1.205:

Anyone make some experiments with this? it looks like we have 4 setups for the cc-cars????, what the hell is that? :-) Any tips are welcome as i will update my tracks to gp32000. Thanks

Posted by Schubert from 203.199.169.242:

I don't own gp3 2000 but the 4 cc setups, may be are used randomly in a qual/race.
i.e...... 1 is selected randomly for each car.
Posted by Knuckles from 203.212.150.189:

The first one is for Dry Race, the second for Wet Race, the third for Dry Qualifying and the fourth for Wet Qualifying.

Posted by Augusto Dewey from 24.232.1.205:

Ok Knuckles, thanks for that tip, i hope we are 100% shure for that now. By the way i try your utility, very nice!. Thanks
Posted by SDI from 213.84.65.29:

This is not entirely correct. In GP3 1.13, the one and only setup was for dry race and dry qualify (wet wasn't changed).
For GP3-2000, setup 1 is for dry race and wet race, and setup 2 is for dry qualify and wet qualify. Then follows ukn, which is defined like this:
(ukn - 5000) * 0.08 = brake bias %

Setup 3 and 4 are used for something else, for some special mode or something, but I'm still investigating what it is exactly.

Posted by SDI from 213.84.65.29:

It's possible I swapped qualify/race and dry/wet in my last post, in which case it becomes dry and wet race in GP3 1.13, and then in GP3-2000: setup 1 for dry race and qualify, and setup 2 for wet race and qualify.
Posted by Schubert from 203.197.54.52:

BTW SDI .

i just wanted to tell u that in md files for GP3 (not 2000) the factor - "track grip" is actually the grip the user gets and the other grip factor marked as "grip???" is AI CC grip. So i hope u make the changes
Posted by Knuckles from 203.212.158.166:

Schubert you may be correct on the Grip??? variable but you are not correct on the track grip variable - it certainly effects both player and CC cars. I have tested this one extensively in making my oval tracks.
Posted by JJ Hansen from 217.157.100.3:

About setup 3 and 4 in the magic files. I think these setups are used, when we use the option "Track dependant default setup" in the "Select car setup" menu. I used Hockenheim to test this with max. wings, with the result that the car was much slower, than with original settings. Setup 3 dry race, setup 4 wet race.

Posted by SDI from 213.84.65.29:

Ah, ok, thanks for clearing that up. I'll update my notes :)


---
Why GP3 doesn't accept my CC-line?
Posted by Damir from 212.62.52.178:

I presume this is very frequently asked, but are there any rules about CC-line (except rads70)? I've tried so many things but GP3 just wouldn't accept it.

Posted by Schubert from 203.197.54.52:

in case u don't know, the cc-line does not appear in the game as it does in the TE.

its to be done part by part (most do 1 corner at a time and testing after each corner is necessary)
Posted by addie from 194.191.82.27:

yes, i'd even say do it cc-line sector by cc-line sector.
first thing is remove the existing line, and then go on sector by sector.
for getting an idea what schubert meant in the first sentence, you could have a look at some original tracks in the TE, how the cc-line looks there in particular.
btw i once wrote a guide about cc-line editing. though it was for gp2, its still valid for gp3. maybe it helps. you find it @ http://www.grandprix3.ch/TEIC/index.html, follow "writings" ...


---
orange cockpits on gp2 (color palette subject)
Posted by Matteo from 212.171.195.58:

Hi,
I'm trying to set orange cockpits inside gp2 using the 0xc9 command (gp2-palette) but I need to know a thing if is posssible!
wich is the most unused color set into gp2 tracks? 'couse I need to use a less"used" gradient for this or all the track elements (eg gray ones) will become orange! I know is a bit strange question but please help me!!! bye.

Posted by addie from 194.191.82.27:

as the gp2 palette is already pretty limited i dont think there are "unused" colors throughout the game. whatever gradient you use you may have to remap the colors of some jams.
on the other hand if the cockpit is all orange, it may not matter whether there is also a little bit of orange somewhere in the trees or whereever ;)
please post how you did it at the end

Posted by M from 213.243.142.231:

You can check out my Golgen Gate track to see how it's done.

Posted by Matteo from 213.45.254.19:

after some experiments i've found this way:
I use the last gradient of 16 colors (a green gradient). at now only few elements use it in jams:
some little elements easy to redraw and 2 other wihc generate a bug:
- yellow refection on jordan appear orange (not really good)
- marschall's green flags are orange: for this there is a easy solution: the green flag into gp2 is not used correctly as in reality: simply I replace all flags as yellow and now all appears right and also similar to reality: I know not really good as solution but this is only my o.3 version: it's need a lot of work! thanx to all MATTEO
Posted by addie from 194.191.82.27:

matteo, thanks for reporting !
---
gp2/3 grip factors
Posted by Matteo from 212.171.194.206:

hi guys,
can some one tell me PLEASE about grip into gp3: i'm still trying to simulate wet on gp2 but some grip /setup report from gp3 could be really important for me PLEASE tell me about this, for me and for the (few?) other people who plays gp2 and wants a wet realistic track! tnx and excuse my english:)

Posted by AD from 62.30.192.1:

Well I only have GP2, but you can try either:
Changing the CC car setup to take the grip value down to 40, and adding more wings
Adding a 'Wierdo enabler' (see the command lib) and setting the grip to about 12800 (normal is 16384)

Good luck!
Posted by Matteo from 212.171.194.205:

Thanx AD, I don't know the weirdo cmd: i'll try it: for now I use a 30-31 grip factor with a higer downforce rear wing i'm working on a wet cc-line, but the real problem is that I need gp2 edit to change player's grip...
bye see you soon MATTEO

Posted by AD from 62.30.192.1:

I probably isn't a good idea to do that as most people won't switch carsets to race on a particular track. Anyway the low track grip seems to affect all cars any way.

Good luck!
---
What is the F1ctl*.dat files?
Posted by Viktor from 217.208.94.210:

In the track dir in Gp3-2000 there are the normal Gp3 track files, f1ct*.dat but then there are 17 files named f1ctl*.dat, what are this files??

/Viktor

Posted by SchimmyMike from 62.54.255.123:

These are the tracks which will be used if you deselect "high detail track grafics" in grafics options in gp3 2000.

If you use this tracks some details are not shown but the cpu performance is much more better.


---
Banking chaos
Posted by AD from 62.30.192.1:

If you want a very odd ride, try setting banking height to over 16000! Have fun!


---
Jams TOO transparent...
Posted by starchild from 212.137.163.94:

I have nearly finished my Goodwood track now,but I have a prob with a jam i made,it is fences with people that i took from a photo from Goodwood! However the jam looks really seethrough in GP3 and almost totally seethrough in GP3 2000! I just cant work out why...

Posted by M from 213.243.142.231:

Can you say what JAM id you are using?
Posted by starchild from 212.137.242.51:

hey thanks for replying guys
the jam ID is 1244
and u can get it here -
http://retrogp3.grandprix-x.com/tracks/fence1.jam

Posted by M from 213.243.142.231:

That's a GP3 2000 feature ;)
Don't use 1244 since it's only for catch fencing...
Posted by starchild from 212.137.162.32:

heh heh nice work Sherlock! U guys are the greatest :)


---
OK another nightmare :)
Posted by starchild from 212.137.161.46:

This is the weirdest one yet...The track crashes to desktop after the loading sequence BUT! If i load another track first then quit back to main menu , then load the track it works fine,and no GPxPatch error log on exit ,,,how do u explain that one!!

Posted by Schubert from 203.199.169.221:

WHOA!

Posted by addie from 194.191.82.27:

its also possible to have it the other way: you load a track that somehow "confuses" gp2/3 and from now gp2/3 "goes mad" with every track you load and you need to quit and re-launch gp2/3 to have it clean again.

starchild, is the track near some limit (e.g. lengthlimit, pit attachement near s/f ...) ?
---
to AD about cmd 0xdd
Posted by Matteo from 213.45.252.254:

GREEEEEEEEEEEEET!
no player grip change is needed now thanx a LOT.


---
jam editor filters
Posted by Matteo from 213.45.252.254:

is possible to understand how simulate a jameditor palette using 0xc9 command into the editor: eg obtain the nighttime effect 3rd palette with the gp2palette cmd without 30hours of testing:)
I've tried to read the source code but is too difficult to me:)
bye!
ps why gp1 crashes on my pc???

Posted by addie from 194.191.82.27:

i guess you mix something up. you have a global gp2 palette and those in the jams which are subsets of the global one. the very colors are defined in the global palette and its here where you can work with cmd 0xc9. the palettes in the jam actually just are indices to the global palette.

when making a nighttime effect you do not change the colors in the global palette. you change the "palettes" in the jam-file to choose different colors in the global palette. maybe its confusing yet, but you have to understand the difference between the definition of a color in the global palette with HSV-values, and the indices of those colors. you have a global palette with 256 different colors that can be set with 0xc9, and you have indices that point to those colors. the "palettes" in the jam are just those indices.

oh i just recall its even a bit more complex. if you look at the texture in a jam, the values there for a single pixel are a pointer to the "palettes" of this texture in the jam, and in those "palettes" we have the pointers to the global palette, and in the global palette we have the actual color values. this is valid for gp2 and software mode of gp3 (though its a different global palette), but not for hardware-mode of gp3. and i dont know about gp1. i hope it brings in some light.

btw gp1 needs very much DOS-memory (low memory o.s.s.), actually it needs about 600k, which is not very easy to get in a regular DOS installation. maybe thats the problem ?! or did i misunderstand the last sentence ?
Posted by Matteo from 212.171.194.246:

oh! wonderfull...errr...sorry...
I try to explain but my english is not good...
well I know that we can't simulate the "complete" nighttime effect, and I have understand the pointers...but if I set this effect in JE and then I export a canvas and I reimport the same, now the jam has pointers to the "global" palette which are the same for every "local" palette so is not this something similar to use the 0xc9 cmd?
I try to explain: I'm trying to realize a wet track and my first idea was to "repoint" the jams, using also some "static filter" (I call them so: means that I export/reimport a canvas so that a jam appears darker)
but this needs 2 different sets of jams for dry and wet. if I use the 0xc9 cmd I can simulate the darker palette (now are all the same: all pointers of 4 palettes are setted in the same way) using the normal dry jams.

yes this is the problem with gp1 tnx
MATTEO.
ps cmds 0x94-95 are the same of gp3? couse in the gp2te they have not a good description!

Posted by Matteo from 212.171.194.246:

another thing:)

I've tryed to read the source couse I've not a complete idea of the color setting into gp2 but I think that a final visual effect is something similar to the mixing of original colors with some other (like a painter) eg a gray, so I've tryed to see how it really works. anyway I think that if I change hue, bright etc... I can work like a painter who mix colors: finally I'll find the right mix which similate the canvas I obtain with JE.
Thanx another time bye
Posted by addie from 194.191.82.27:

I guess it was me mixing up something. of course you could make a nighttime effect with 0xc9. but then you cant make the headlight-effect as could be seen in the nightrider-grauholz track. for the latter you will have to work with the four palettes of a jam, where you have links to "night colors" in palette 1, 3 and 4 and links to regular colors in palette 2. but for a wet track it could work out. oh i just recall, maybe you also want to have a look at my bern-bremgarten 1954 for grandprix2 again and check out the "classic"-version (br54_c.dat in the package)

btw you also studied the colors-tutorial of snqqpy.dog "SNQQPY's Gp2 Colour Tutorial" ? it can be found on paul hoads tutorial page http://www.sportplanet.com/gp2/trackedit/gp2tutorial.htm
maybe it also is of some help.
Posted by Matteo from 213.45.253.114:

I know :
I'm your WORST nightmare:)
only the LAST thing, NOT needed answer!

first: thanx a lot, I'll read the tutorial of course!

second: see the thing in this way:
if I understand well I can say this about "local" palettes (1...4):
every palette is a set of pointers, every pixel in every palette have a pointer which defines the index(or the indexes? is a 3d vectorial pointer? but is not important now...) of the "main" palette. Now when all the local pal. are setted in the same way every pixel has the same pointer in each palette.

now,instead, if I use the unblessed:) cmd I can do something similar to the change of the color(wave?) refferred to the index in the main palette.

ok, now consider a pixel with an "original" pointer setted to the index A, I readdress the pointer using the filter, now it is setted for the index B.

to the other hand instead (and also) I can use the 0xc9 cmd and I can set the index A so that it shows (not really correct...but...:) a new color: well I can set it as the B indexed color!
pratically something as the color control on your TV.

with this I obtain the same "filter action" of a new canvas, without the new canvas.

Hoping you are still alive, cheers!

Posted by addie from 194.191.82.27:

looks like you got it :)

two remarks to stress the subject yet:

- if you change some colors with 0xc9 in the main palette, its changed for the whole game (in this track). e.g. if you want to change the green of the trees, say to e.g. some autumn colors, maybe you also change the green of the cats in the same go, if they happen to have the same "main colors".

- some of you may wonder why in the name of geoff crammond we need 4 palettes in a texture and for what. at least i did in the beginning. here it is: the palettes are triggered by the distance of the viewer. so if the advert along the track is far away the game uses palette 4, if you approach it uses palette 3, then palette 2 and if you are in front of it it uses palette 1. in gp2 and gp3/software rendering this is used for blurring. in the nightrider-grauholz track this is used for having a "headlight" in the night. and in the regular grauholz track (gp2) its also used for a LMP "limited motion picture". you may have noticed the "big screen" near the pit entrance. if you approach it, the image changes. as we have 4 palettes, i could make 4 images. but as the jam-palettes are pretty much limited, the pictures of the LMP are pretty poor.

so your decision how to manipulate colors depends on what you want to get

but in gp3/hardware rendering all this is out of question anyway now ...

Posted by Matteo from 212.171.194.234:

eh eh eh!!!
Addieeeeee.... I'm baaaaack...
eh eh eh!!!

simply for this: LMP? how? simply: there is a tutorial about this? did I understand well? can you select a different picture (not "colors") for each palette, can't you?
really interesting!
remember: every where you'll go everything you'll do... I will be there!!!! ahahahahah!!!!!!!!

(- university made me mad:)

MATTEO

Posted by addie from 194.191.82.27:

as for the LMP, see grauholz-nightrider version, the big screen in the chicane before pit entrance.
be sure to have full gfx-options enabled, then approach the "screen"-advert and watch "the black car in the adrenaline corner".
no, you cant "put pictures". it was a long procedure to figure out the "quadrupels" of color indices for the 4 "local palettes" in order to get 4 different images out of one. and because there are only about 250 "quadrupels" available, the images had to be kept pretty poor. but it worked out and that was the important part for me.

or let me say it like this, if you understand why and how the LMP works, you completely understood the thing with the 4 "local palettes" of a texture in a jam-file. basically i prepared 4 images and "merged them up" into a single one.

but i'm afraid there is no tutorial about this. and as the work was hard and the result and the outlook was pretty poor (though working) i did not go on with it. (and about nobody was interested anyway). and these days we have the hardware-rendered gfx in our favourite racing-sim and the "local palettes" are history anyway.

addie
---
Street circuits
Posted by AD from 62.30.192.1:

I'm working on a street circuit for GP2 at the moment, And I've got good kerb textures, but is there any way to make them look realistic without making the car fly very high?

I am also thinking of doing a street circuit tutorial. Is anyone interested?

Posted by addie from 194.191.82.27:

shaping kerbs like sidewalks (e.g. in bern-bremgarten) always gave me "high flying" cars and i couldnt find anything against it then. though i'm not sure anymore whether both types of kerbs act the same way if they have the same shape. but beside that i'm afraid we have to live with it.

as for the tutorial, i'm also very fond of street circuits, and working on two of them since a long time (but with big breaks) so i'm curious about your approach to the subject ! and when the tutorial is finished i'd be glad to host it on my page.

keep it on
addie
---
Kerb Types
Posted by Schubert Cardozo from 203.197.56.123:

Am i the only one to know that we can have more than 2 kerb types in a particular track?
Posted by addie from 194.191.82.27:

so far we had 4 types per track, 2 for left side and 2 other ones for right side. defining shapes was done with cmd 0xca, defining begin/end with checkboxes in tracksectors combined with cmds 0x8e/8f (see description of robin paus in command library for details).
are there changes in gp3-2000 ?
Posted by addie from 194.191.82.27:

btw my description is(?) valid for gp3-1998. in gp2 we had 2 types A and B that were the same for both sides of the track. in gp3 there are different sets of types A and B for each side.
Posted by AD from 62.30.192.1:

Don't forget the 0xCA command for changing kerb type A heights mid-track!
Posted by addie from 194.191.82.27:

mid-track changes ? in gp3 ?
Posted by Schubert from 203.197.55.83:

Ya! It seems we can change a kerb profile in mid track (say t[12] we change the profile for Type=0 (guess that would be Left Type-A kerb))
Hence every Kerb with type = 0 will be shaped according to definition in t[12] until the next profile cmd which would be in t[0] if there are none other after t[12] Hence we can have many types as we want to.

Me Gp3-2000 = No Idea
If some of u knew about this you should have shared the info.
If not good its now shared.
BTW, AD you're saying -- changing kerb heights in mid track. I think you can shift pts too and hence change the whole shape of the kerb. May be! And why only Type A, may be even type B
(Lets try it)

Posted by Schubert from 203.197.55.83:

Robin paus is talking about 0x8e, 8f cmds but we can add more kerb profiles too. Works similarly. Hence more kerb types. Further, If there is no programmed limit in gp3 then we can have ...
no. of kerb types=no. of track sectors.
if this was already discovered earlier, i'm sorry for posting this.
Posted by addie from 194.191.82.27:

if the change of shape is possible mid-track, it may be possible also "mid-sector" ? at least there is a a1 in cmd 0xca which could be "offset into sector", so we could have even more different kerbshapes ?!

anyway: as i see we have but two types anyway (though with a large number of possible shapes each) ?
if we have the very same shape for type A and type B, what is the difference then ? (i'm pretty sure there IS a difference. because if there is no difference we dont need two types, do we)
anybody?

addie
Posted by Schubert from 203.197.56.17:

Well thats what actually led to me inserting an extra 0xca cmd somewhere in the middle of the track out of frustration to see what happens :) and it happened

I did require only 2 kerb types for Suzuka the type one which is flat (like this _ used in most of the circuit) and the type B is the one i used for Casino chicane and the first degner. (the huge kerb like this /|) But i was facing this problem...

Even though Kerb selector was checked for the left kerb to get kerb type B at casino chicane it actually was showing a kerb type A so i tried to put a profile to set kerb type A into the huge one and it worked.

So there seems to be some limitation when using the kerb selector in the trk dialog. Sometimes it does not apply whereas sometimes it does. There is certainly some reason behind this
Posted by AD from 62.30.192.1:

I thought the extra kerb definitions didn't work, only 1 of them was noticed. Is there any way (in gp2) to modify the front part of a kerb (0xca only works on the back height)?

Posted by addie from 194.191.82.27:

as far as i know in gp2 with 0xca and 0xcb you can define both heights and distances to them, see cmd-lib, john verheijens sketch is valid for both gpX-versions.
and as far as i know in gp2 mid-track changes of kerb shape were not possible ?!
Posted by Schubert from 203.199.171.22:

In gp3 it is possible. Do you'll know about this in gp3 before?


---
Floating Pitlanes
Posted by Paul Edmonds from 195.166.140.30:

I'm working on a version of Nazareth speedway and all was going well until I put the 34' change of elevation in. Now, no matter what I do, the pitlane floats about 6' above the verge and the pitlane itself sits on a small hill. Adjusting individual height commands in the pit lane sectors seems to have little or no effect. Any suggestions as to how to tackle this?

Posted by AD from 62.30.192.1:

I think there is a 'pitlane start height' command of some sort. Try looking in the pitlane tutorial or command library.

Posted by addie from 194.191.82.27:

the 'pitlane start height' cmd should be used in emergency only i'd say. at first you could try to adjust the heights in the pit lane. starting at the pitlane/track attachement point, the heights (cumulative altitude) should be the same for the track and the pit lane side by side til the attachement point of the end of the pit lane to the track.
unfortunately pauls TE does not feature them correctly if the gradient at the pit lane start is non-zero. and you also have to consider eventual non-zero gradients at the start of the track.
i used to work with the TE of vaino for this, as his pit lane heights are perfect.
sometimes i just "improvised" a bit, trial and error.
could you post a brief description of the topology of the nazareth track and pit lane between the two pit lane attachement points (sorry for being ignorant :) ?
Posted by Paul Edmonds from 212.88.40.146:

The pitlane attaches to the end of the only straight, the main back stretch, which has a negative gradient, (Turn 3). The track then bottoms and curves right, (Turn 4), starting in a 34' climb that continues across S/F through Turn 1 to Turn 2, leading onto the back straight, before starting to drop again. This is where the pitlane end attaches, so the pitlane has to go down, turn and go up, then enter the pits, carry on in a straight line out of the pits, then turn, all still rising, before reaching Turn 2 where it crests the rise, attaching onto the downward gradient of the back straight.

I should mention that the pit straight is straight, but the track curves along the S/F "straight" and is therefore shorter than the track. I don't know how the geometery works in track editing, but could this be part of the problem?

Posted by Paul Edmonds from 212.88.40.146:

I should also add that I don't seem to know left from right..... The track is an anticlockwise tri-oval, so everyone goes LEFT all the time.

Unless they're Max Papis.
Posted by Schubert from 203.197.55.83:

Try this: Add a large height value at the sector in the pit lane where the cmd pit-fences begin and go on reducin it (value) backwards until the start of the pit.

eg:35 ,30 ,29

Just see if it makes a difference. It may not make the pit heights perfect but it might make a difference so that u know whats going on.


Posted by addie from 194.191.82.27:

paul, yes, if the pit lane has different length between the attachement points than the track, this does not make life easier. if i got you right, the gradients are steady, there are just two gradient changes ? and if i got you right, in the pit lane there is only a single gradient change ? if thats true it could be possible to get rid of the floating simply by increasing the gradient-change in the pit lane.
in case you see green gaps in the road at the pit lane fence begin or end it could be neccessary to increase the length of the "pit lane ramp" (the piece of pit lane from there to the attachement point of the track) there.
i hope its useful
addie
Posted by Bob P from 65.94.226.225:

I agree with Addie, the pit lane height command does strange things with the remaining sectors of the track. I tried using it and gave up.

Bob P

Posted by Paul Edmonds from 195.166.140.119:

Success! In the end, I focused on one of the comments in Addie's Pitlane Editing tutorial, about matching gradient changes in the track to those in the pitlane. The pitlane behaved as if both ends were fixed and there wasn't enough gradient change in the pitlane to allow it to "flex" enough. Adding more gradient into the relevant sectors meant I could overcome this "springing" effect. The elevation is like a backwards "~", so this probably an extreme case.

Posted by addie from 194.191.82.27:

i'm glad to read it worked !
yesterday i had a closer look at the nazareth track layout. quite extraordinary pit lane arrangement, as the pit lane is almost as long as the track :) and they have a special "warm up lane" !
(probably old news to most of you anyway :)


---
Pit section number 0
Posted by Benny from 62.104.214.78:

Hello everybody,
I started to make a new track. Before I started I deleted the whole pitlane including section 0. So, now I spend a lot of work in my tracksections and now I want to start with pitlane. But how can I create a pit section number 0. Please help!

Thanks
Benny

Posted by Schubert Cardozo from 203.197.56.123:

Select the pit tool in the toolbar and click menu "Pit Lane" Insert Pit Section.
BTW you shouldn't have removed pit lane. It is always better to straighten (and level) pit-lane sectors and then reshape it. That way the reqd cmds will remain intact. so less work.

Hope it helps
Posted by Benny from 62.104.214.95:

That is the problem.
It doesn't work somehow. When I click on "insert pit section" nothing happens. I think it is connected to the missing pit section (0). I think there must be at least one section already. But I deleted all. So I hope there is a way out because I spend some hours to create the track-sections.
Maybe there is a way to copy the track-sections in another track or something like this. So that I have a starting pitsection again.

thanks for any help

Benny

Posted by addie from 194.191.82.27:

-you selected the "pit lane tool" (in opposite to "new pitlane tool")
-you clicked on "pit data" in the tracktree.
-you called menu pit lane/insert pit lane sector
-you hit the F5 key to have the track tree refreshed ?
Posted by Benny from 62.104.214.76:

Yes, Addie, that is exactly what I am trying the whole time. Do you have any idea?
Benny

Posted by addie from 194.191.82.27:

if there was no new pit lane sector after hitting F5, i'm afraid there is no way to do it with pauls TE. so the track seems lost.

(but thats no reason for desperation)

if you "just" made the track layout so far, you could take a new base track and port the layout of the lost track simply by copying the figures. doing this by hand should be done in less than an hour, and its a good opportunity to say hello to all of the sectors once again :)

but if you already have done scenery work and everything, it would mean a bit more work, work of the kind everybody likes to avoid, then dont hesitate to send the track to me and i could try more drastic things, (things that are too nasty to talk about. digging guts, things like that :).

dont give up
addie

Posted by Benny from 62.104.214.78:

Ok, I will do that. What do you mean exactly with "port the layout of the lost track simply by copying the figures" or better: how do I do that the fastest way

Thanks
Benny

Posted by addie from 194.191.82.27:

i mean just take an original track (again) and have it together with the "lost track" in the TE and then copy the figures (length, height, curve, verge) sector by sector from the lost track to the new one. the easiest way is to have a trackdata table of the "lost track" open where you can look up the numbers. beware: the values for angles you may want to copy/paste instead of just look-up. in particular if you already have a cc-line or when porting the cc-line.

i know its an archaic method, but easy to remember.
addie
Posted by Bob P from 65.94.226.225:

You could accomplish this by opening the track table in your track, then exporting the table data to a CSV file. Then open an original track, ensure the number of track sectors matches yours, open the track table then import the CSV file. It will work enough to get the sector lengths and curves correct. Saves some of the work.
Posted by Bennny from 62.104.214.93:

The track is working now! ;)
Now I will start with some textures...

Thanks for your help addie
Benny


---
Removing skidmarks
Posted by AD from 62.30.192.1:

I've found that the command for removing borderlines also works with skidmarks, just add 128!

I'm working on a list of the other things removed. 256 & 512 do the verges, and 1024 does the track texture. There's also one for the pitlane yellow line, but I haven't found it yet. Any ideas?
Posted by addie from 194.191.82.27:

i assume you refer to cmd 0xb2 ?
Posted by AD from 62.30.192.1:

I did, I just couldn't remember it! Had this been discovered before?


---
fences-height
Posted by Benny from 62.104.214.93:

Hello,
Do you know if it is possible to lower the Fences-height. Lets take for example the fences in Monaco. All these fences I want to lower, so that you can see a bit more of all the houses. How can I do it?
Thanks for any help
Benny

Posted by mindprobe from 212.18.162.204:

Use the command OX9a
in a2 you choose the fence height to change, in a3 you define the new height for that fence.
the custom eights are:

a2=1 a3=200
a2=2 a3=400 etc...

if you want to lower them for half the height you put a2=1 and a3=100
Posted by AD from 62.30.192.1:

Does this work in GP2 as well?

Posted by addie from 194.191.82.27:

for a complete description of how 0x9a works in gp2/3 see command library (http://www.grandprix3.ch/TEIC/index.html, follow writings)
. you also have to look at cmds 0x98/99
Posted by AD from 62.30.192.1:

I looked, but it only had 2 args! Is this a mistake, or is it right in the TE?
---
Few Probs (can't find track file)
Posted by Tim from 203.220.72.242:

I Have used your track editor be4 on gp3 with great success, but when I have upgraded to gp3-2000 and using the v.202 track editor I can't seem to edit nothing?I get a message "can't find track file"???
As well with your careditor 3.07 It seems to only want to find the gp3 exe not the gp3-2000. Now While I can change the shape of the car set via gxpatch, I can change the car-shape cameras etcs. Please HELP.
Tim
---
Kerbs
Posted by AD from 62.30.192.1:

My advice is to put the Kerb Strip commands in the first sector, for the full length of the track. The kerbs will then always appear where you put them, without any gaps!

Posted by addie from 194.191.82.27:

you mean cmds 0x8e/8f ? and a3 "length of kerb" you set to full length of track ?
(and then switch on/off kerbs just by the checkboxes in the tracksectors)
you checked whether the kerb begin and run-off works also as expected ? you checked whether it works for both types of kerbs ?

good idea !
addie
Posted by AD from 62.30.192.1:

It does work for both, and a good example is PLK's 1992 Kyalami for GP2. I got the track about a week after I had the idea!


---
Major CC line problem
Posted by AD from 62.30.192.1:

I'm creating a new track, the layout is finished, I've started the CC line, but when I reach halfway through a fairly tight hairpin (60mph ish), the CC line after a point turns into a continuous white line into the distance. I've tried breaking it down into 2 sectors, but the problem happens whenever I try to extend the line, by however much. I've only used about 13 sectors so far, and I've tried different slots. The CC line never goes onto the grass, only the kerbs. I've also tried changing the angles a bit, but to no avail. Please help!

Posted by addie from 194.191.82.27:

hm
sounds like you see the "substituted" cc-line. the cc-line that gp2/3 takes if there is no cc-line !? its in the middle of the road (if track widths are symmetric)

in hairpins its sometimes difficult to still see the real cc-line, so you had to go on "blind" for a moment, trial and error until you see it again.
Posted by AD from 62.30.192.1:

It con't be...it is a solid white line that goes straight off through the grass and fence, not down the middle of the road. And the CC cars follow it off the road. Any ideas?

Posted by AD from 62.30.192.1:

Sorry, I forgot to mention that the line also goes straight on.

Posted by addie from 194.191.82.27:

if the cc-cars follow it it IS the cc-line. this weird line also is called haywire-line sometimes. if you see a haywire-line you are in gp2 for sure. gp3 freezes in cases like this.

haywire-line means its "too wrong" for gp2 to handle anymore. somewhere between the point where its still ok and the point you notice haywire, the line goes off the track too much, maybe in the hairpin ?
you could go on with trial and error in the hairpin or you could remove all cc-line sectors you dont use yet (in gp3 you HAVE to do this, because gp3 freezes with haywires. thats why in trackediting for gp3 the first thing you do is removing the whole cc-line)
if you remove those cc-line sectors trial and error will be a bit easier, but on the other hand you have to reinsert the needed sectors again.

Posted by AD from 62.30.192.1:

It's always GP2 with me!
I didn't add any sectors after it, but it's in the middle of the hairpin it goes off. I've tried switching to a 0x70, but to no avail. I'll send you the track tomorrow.

Thanks anyway,
AD


---
Objects behind ribbons?
Posted by James Knopp from 195.92.168.165:

Just been adding some new objects to hungary on the start straight, however the hill to the left keeps been drawn behind the object, rather than infront. How do I make hill get drawn first then the object so that the hill hides part of the object?
James

Posted by Andrew from 195.93.50.161:

Hi,James Id just like to add that I have the same problem and also need to solve it, there was a discusion on this, brought up by me in the summer and no progress was made/no one seemed to know :-(

Posted by addie from 194.191.82.27:

i'm also interested very much in a solution or workaround for this major headache of mine. there are a few unks left in the object-setups (aka object definition), maybe there is some key there ?

and maybe there is really no solution for this and this maybe could be a 2nd reason for the "ribbon objects" you see in some tracks ...
Posted by Andrew from 195.93.48.184:

I tried a few of the unks to no avail (maybe just wrong figures), if you check pks brands hatch you may see the buildings on the left of the pit straight one apears to be behind, but i contacted him and doesnt know why or how and i couldnt work it out either
Posted by Marcos Gauguin from 200.190.239.17:

Take a good look at the two houses in A1Ring sector 57. I think that's what you want.
Gauguin
Posted by addie from 194.191.82.27:

hey thanks gauguin !

indeed this seems to be a working example ! the situation in question can be seen here: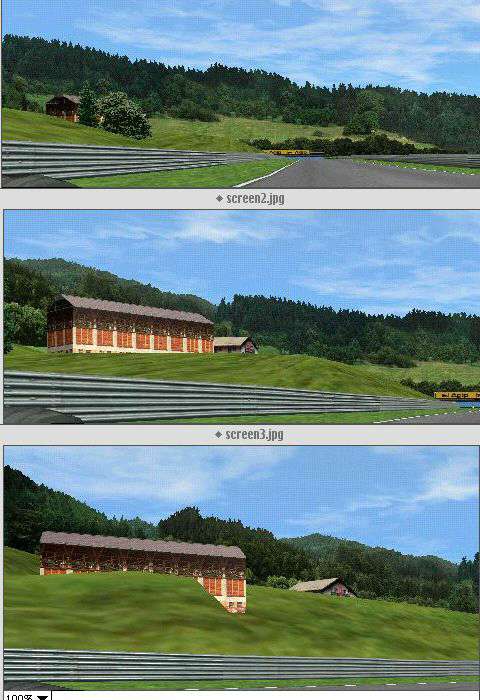 i checked in the TE its indeed "objects behind ribbons". unfortunately i dont have the time at the moment to go deeper into this, i just noticed (again) some "strange" figures in the unks and id2 of the object-setups of the houses, and at 2nd quite some cmds 0xd0 around there. andrew, james maybe you could try to reproduce in your tracks ?

addie


---
CC-line out of the window!?
Posted by Jaap from 213.46.120.204:

Hi there... Together with Maurice van den Hoogen I'm still developing our own FWN-testtrack. It is progressing well and now we've come to the CC-line. I'm about halfway the track and the CC's are really willing to get around the track without crashes :) Still, right after the first corner the CC-line did not follow the track anymore (which is possible), but now, halfway, it it completely on top of the window and I can edit it anymore as the CC-line goes out of my window.... how can I deal with this issue?? I just don't get it...

Posted by Schubert Cardozo from 203.197.54.61:

Thats actually wierd. How didn't we think about this problem?? :)

Anyway, you should try changing track start angle and so the cc-line start angle will be changed according to the track. Get it into a position at which you can see it clearly and then change the angle back to the previous value.

Posted by addie from 194.191.82.27:

maybe rotating the track by 180 degrees works. but in general beware, changing track start angle may ruin the cc-line.
Posted by Matteo from 213.45.254.59:

I've found the same problem with a test cc-line for spa (gp2) well rotate is a very good idea, anyway you can also use the tree on the left and edit values from it (you are blind but how really you can understand how good is cc-line looking it into TE?)

Posted by Jaap from 213.46.120.204:

Thanks foryour replies, guys... It seems changing the angle has no effect on the CC-line.

Okay... that's going to become blind-editing, adding another new dimension to track editing :))
---
converting SW jams to Hw jams ???
Posted by Schubert from 203.197.54.61:

How do i convert Sw jams to Hw jams. I can't increase the bits per pixel from 8 to 16, can I?

And how do i get Jam Tool to recognize the transparent color in my jam? My HW jam is a catch fence and it should have transparent holes, but i can't get it done. Also if i change something i can't test it since Sw mode users can't run Hw mode! :( Please help!

Posted by James Knopp from 195.92.168.169:

Take the canvas and increase the bits to 16. You'll basically have a the canvas that is 16 bits. Now open up a hw jam, remove all textures. Import the canvas, then add appropriate texture sections. I know this is quite vague but it's the only way to do it. Perhaps I'll write a sw to hw converter :)
You must use one transparent colour which is rgb(0, 252, 248). And also make sure the transparent flag is checked.
The last question, hmmm, not sure what to say, other than purchasing a 3D card should be a good idea ;)

James
Posted by Schubert Cardozo from 203.199.170.82:

Thanks for the reply!
What would the 0.001% software users do if there are no Sf track makers ;)
The thing is that my image editor does not allow conversion to or from 16 bit. How is it done using Photoshop? (if you know)

Posted by Marcos Gauguin from 200.216.126.81:

The easiest way to convert HW Jams into SW Jams:
use the good old MS Paintbrush
paste the HW bitmap over any SW bitmap and save it.
If the texture uses transparent color you'll have to copy the SW transparent color and paint the desired areas.

Posted by Schubert from 203.197.54.56:

Thanks but the question is Sw to Hw not hw to Sw??
---
pitline doesn't works
Posted by Matteo from 212.171.194.223:

I'm trying to realize a complitely new track with a pitline of course, but I've some trouble with it: 0xd3 and 0xd5 cmds don't work at a first vision, is possible that some other error in pit editing (eg wrong cmd position)can cause the trouble with 0xd3-5 cmds? I've used addie tutorial to do it but probably some thing is not really clear to me!
ps: the overlapping of pitlane is in the same point of the overlapping of track but change the end position of pits doesn't change the situation
thanx MATTEO

Posted by addie from 194.191.82.27:

you didnt mix them up by chance ?
and you are sure to have only one of them each in your track ?
you also considered the other "d's", d4, d6, d7, d8. if you dont use them, you will be more comfortable if you get rid of them.

if the problem persists you could also try with having them in different distances from the pit entry and exit.
typically they are "behind the next corner", as thats the place where this kind of visibility normally starts.

i hope it helps
addie
---
GP2 defined object not showing
Posted by starchild from 212.159.167.23:

I have nearly finished doing Bob Culvers Reims track for GP3 and there are a couple of problems...got some telegraph poles that just wont appear on the track no idea why...nothing is overlapping or anything,there should be about 50 of em but there are none! any clues? also still cant fix the long long view when u come over the hill :(

Posted by Larry from 216.239.66.120:

Did you simply do an "Add Texture" with Jamtool to create the jam for your defined object. If so, it will be invisible.
Start with a jam of a defined object like a tree as a base for your custom jam. Don't delete the tree texture. Just resize it to the height and width of your telegraph pole bitmap. Then import the telegraph pole texture to it.
Then create a new object definition with ID1=5 and ID2=jamID-256.
I hope I haven't stated the obvious. If this doesn't work, then I have no idea what's wrong.
---
Index
end of list