Forum Postings 2002 February
http://www.mircx.com/cgi-bin/forum.cgi?forum=Tracked
collected and (very little) formatted by addie walti
---

Threads
The start of a thread is on top right below the title
Maximum number of laps?
Checksum HW / SW
Converting jams HW to SW
Track Camera Unknowns??
Generic Question to GP3 changes... (cc-cars run out of fuel)
Please help! (Bumps and Gradients)
Shade on internal objects
Moving the Start/ finish line
Custom GP2 Jams
CC-Line changes after editing the track.
Transparencies again!!
Ariel photos of 31 US race tracks
Grass Boxes!!!!!
Bug in Surfer's paradise (view distance)
can somebody tell me what's wrong with this track?
---
Maximum number of laps?
Posted by Mikko J. from 130.232.202.238:

Hello. A simple question? Is there a limit in GP3/GP3-2000 for a maximum number of laps in a 100% race? Is it possible to drive say a 200 lap race on a very short oval track, for instance?

thanks,
mj

Posted by JackieMatra from 66.44.4.190:

The maximum number of laps that can be run in a race in GP3 is 100 laps (not 99 laps as is often erroneously thought).

I don't know about GP3 2000.
Posted by Flo from 217.226.116.249:

I think the limit is 99 laps.
More than 99 work also (I tested it with 120), but GP3 2000 crashes if you want to view the lap chart.
Posted by JackieMatra from 66.44.3.196:

100 laps.

99 laps seems to be the figure that everyone quotes for some unknown reason, but it is really 100 laps.

I've run 100 lap races on all oval tracks with no problems.
More than 100 laps causes crashes.
Posted by Flo from 217.224.28.93:

In most cases 99 is a limit because of the two digits, but GP3 seems to be different here.

Posted by Tom C from 62.64.171.226:

Actually the upper limit for laps is 126, with anything higher the race ends once every car has crossed the line at the start. Just out as a point of interest the lower limit is 3.
It was the same in Gp2.
Posted by Mikko J. from 130.232.202.238:

Yeah I tried the Chicago oval with 200, at start the cockpit said "0 lap race" and it ended as soon as it started. I will try 126. Of course the magic data (cc pitting strategy) has to be modified accordingly? Are there any problems in telling the cc to pit at lap 100, for example?
So 99,100,126? Is there something (lap chart?) that works with 99/100 but not with 126. I'll look into this myself as well but now I don't have access to the gaming rig and I should set down the rules for a starting season.

thanks

Posted by Flo from 193.159.13.106:

Only the lap chart crashes with more than 99 laps, the other screens still work.
Posted by Tom C from 62.64.171.210:

I've never had a problem with cc-cars pitting after 100 laps or more, but yes the magic file does need to be altered, I use the pit + lap editor which supports magic data.

As to why the cockpit says "0 Lap Race", that is actually because the cockpit only supports two figures. If you have it set to 126 laps, the cockpit will read "26 Lap Race" but the race lasts for 126 laps.


---
Converting GP2 Tracks to GP3
Posted by Emmanuel Crouvisier from 66.72.195.99:

Unfortunately, I have been unable to convert GP2 tracks to
GP3 format with Paul Hoad's GP3 Track Editor, which I understand is
a feature of the latest version.

Whenever I try to open a GP2 track with the GP3 Track Editor, the
program immediately crashes and shuts down. The track opens just fine with
the GP2 Track Editor, so it does not appear to be the case of a corrupted
file. I have tried with several tracks, and have yet to have any success.

I am currently in pre-season testing in the Formule Campus
championship in France, and am looking to get an advantage over my other
competitors by putting hundreds (or even thousands) of laps at each of the
tracks that we will be racing at this season, but unfortunately, I can
only find GP2 versions for some of the tracks (namely, Nogaro and Pau).

I am hoping
that you might be able to help me resolve my track conversion problem, or
that you might know of someone who has already converted these tracks to
GP3 format.

Whatever advice you might have to offer would certainly be
appreciated. Additionally, if you happen to know of anyone who might have
the Ledenon track and the current version of the Charade track, that would
be excellent information - these are the only two tracks that I am
missing.

Thank you very much !

- Emmanuel Crouvisier
http://www.crouvisier.com/
Posted by dave from 217.120.108.199:

converting tracks gp2gp3 must be done with the registered version of TE as far as i know!


You need a registered version of the track editor to convert gp2 tracks, if you try the program tends to shut down if you have not registered. If you have registered then maybe a reinstall of the program may help

Posted by Flo from 80.128.214.235:

It also works with the unregistrated version.
But you cannot open a GP2 track in the GP3 track editor, you have to import them using the green "ímport GP2 trackfile" button. But it's a bit difficult, because you need a GP3 track as base.
I could convert the tracks for you, just send me the GP2 versions.

Posted by JackieMatra from 66.44.27.247:

How should one select what GP3 track to use as a base?

I've had no luck, same as Emmanuel, in my few feeble attempts at converting a couple of GP2 tracks that I would just love to have.

Flo, does your GP2-GP3 conversion offer hold for anyone besides Emmanuel? There are a number of GP2 tracks that I would really love to have for GP3, but my conversions attempts have all gotten absolutely nowhere so far.

Posted by Hernan from 200.80.15.113:

First you have to look how many track, pit & cc-line sections has the gp2 version, then the gp3 base track should be at least one more section longer on each. when the conversion is done, then you remove the remaining sectors from the base track (if gp2 version is 50 track sectors long the gp3 base track must be 51 or more. the base track will be converted like the gp2 one until ts50 the you remove ts51 and followings if there are any).
The same with the pits and cc-line.

Posted by hernan from 200.80.15.113:

I forgot the most important thing, always ask the original autor of the track before doing this.
Posted by JackieMatra from 66.44.3.196:

Hernan, of course only with the author's permission, with the exception of original Microprose GP2 tracks (which just happen to be some of the ones that interest me the most).

Thanks, Flo, I'll give your dat file a try first.

Posted by Andrew C from 80.225.33.1:

I've used your blank track, Flo, thanks.

I import track, pits, cc line and their commands and scenery. I also import as much as I can of the track object defenitions, as it won't take them all. Anything else I do, it crashes. However, when I try to race there, it falls back to windows. Do I need to import something else? GPX patch log just says Access Violation!!!

Any help appreciated
Thanks

Posted by Andrew C from 80.225.33.1:

I meant to say in that post that I was trying to convert Canada, and that I need help!
I also meant that TE editor crashes when I import the other stuff.

Posted by Augusto Dewey from 24.232.68.170:

It is not just convert everything in 5 seconds... the best way is just convert the layout and the cc-line, for the scenary you should have to do it again taking in mind that we have more ribbons in gp3 than in gp2. Objects also are not the same, so you should search similar objects in gp3 than the ones in gp2. For the rest you can work with the gp2 track as base but again.. don´t expect to make all in 5 seconds just converting...
Posted by Flo from 217.226.112.116:

The options I always use when I import a track:
http://www.grand-prix-3.de/import.gif
You always have to change the texture mapping commands, because they are not imported correctly.
You also always have to start GPxPatch in Debug mode, because there is no Magic Data in the imported track.

Posted by Flo from 217.226.112.116:

The scenery import worked always perfectly with my tracks, but perhaps there are problems if one ribbon is switched to the other side.

Posted by Augusto Dewey from 24.232.68.170:

that is the point flo, also with 5 ribons on each side there are more chances to make a better scenary that in gp2. And there are many commands that are not the same in both games and also new commands in gp3...

Posted by JackieMatra from 66.44.17.149:

I've had absolutely no success at converting any GP2 tracks to GP3.
I've used both Flo's blank track and other tracks as bases. All extra track and pit sections are always pruned.
I've imported only the layout, only the layout and CC line, as well as more, and it's all to no avail.
In any and every slot, with or without magic data, absolutely all of the tracks crash immediately.
Posted by gap from 62.211.61.190:

It is not in my program to traslate any track, but I've a question out of interest:
Does the pitlane commands are imported with the track?
peraphs Andrews problems are in this...

Posted by Bob P from 65.94.221.65:

You still need to remove most of the elements of the track... once the layout is imported, you pretty much need to strip it down, removing commands other than those that place the pits, pit fences, and of course the CC-line. Do check out the collection of troubleshooting and forum posts at Addies site (www.grandprix3.ch).

I was frankly amazed how easy it can be. I converted my (very) old Parking Garage track, removed all the scenery, etc, and started fresh. The bare track worked the very first time in GP3.

Posted by JackieMatra from 66.44.7.29:

They never work no matter how little is imported initially, nor how much is removed thereafter.

I'll have another try at it, eventually, but somewhat later. Not that I'm giving up, but after several weeks of this aggravation, I need to take a break.

Posted by alfa from 203.34.246.4:

Perhaps you could instead try the 'manual' method, which is what I did when converting my GP2 Bathurst to GP3, and thats to open up the GP2 and GP3 editors in separate windows next to each other and simply retype the information on track segments and CCline into the GP3 editor by hand.
It might be though of as time consuming, but it only took me one evening and was guaranteed to work.


---
Checksum HW / SW
Posted by Polonor from 62.147.79.105:

I have built a circuit. I have done textures 24 bits, and my circuit is Ok in HW Mode. I want to edit a SW Version but I want the same Cheksum in SW and HW mode. How can I do ? Thanks

Posted by addie from 194.191.82.27:

hm
different things usually have different checksums i'd say, but probably i just dont understand what you mean (as some may recall, today seems not to be my brightest day :)

however
if you mean the checksum of the trackfile, then its already done, as the trackfile is the very same for HW and SW mode.
you just need a subdirectory with the same name for the SW-jams in the gp3jams-directory.

but if you mean the checksum of jams/textures then i wonder why you want it that way ?
(besides it wont be possible anyway)

addie

Posted by Schubert from 203.197.33.199:

This is actually wierd because AFAIK the checksum is dependent on every byte in the file and since the path to the SW is different from that path to HW jam....

like "gp3jams\...."
and "gp3jamsH\....."

(obviously that H has to make a difference)

...so i don't really understand how HW and SW checksums read the same for every track??

Posted by addie from 194.191.82.27:

yes, the first part is correct, the checksum depends on every byte, but in a gp3-trackfile you only point to the SW-jam. gp3 manages the H by itsself. thats why the subdirectory-names of the sw-jams and hw-jams need to be the same.

so you have a "myJams"-subdirectory in the "gp3jams"-directory and a "myJams"-subdirectory in the "gp3jamsH"-directory that is ...
Posted by Polonor from 212.234.172.12:

First, thanks for your attention :-)

OK, I have a subdirectory called "MyJams" in "...\GP3Jams" and a subdirectory "MyJams" in "...\GP3JamsH".

OK.

When I run GP3, in HW mode, it's OK
When I run GP3 in SW (used the same dat files), GP3 crashed.

This is why i have made a HW version (with a cheksum) and a SW version (with another Cheksum).

Perhaps the jams FILES must have the same names too ? Actually, they have NOT the same names, is that an error ?

Posted by addie from 194.191.82.27:

gp3 only finds jam-files listed by their name in the trackfiles jam-list. so if you have jam-files with other names in the mentioned directory, gp3 wont see them anyway. you also can have jam-files in several directories, as can be seen in many working tracks. but the sw-jams need to be somewhere within gp3jams and the hw-versions somewhere (with same filename and subdirectoryname) in gp3jamsH.

and in the jamlist you include sw-jams only. gp3 adds the character H in the path if you run hw-mode.

however i'm surprised anyway gp3 crashes !? because as far as i know if it does not find a needed texture, it does not really care about it and you just get some grey areas there in the game, or some missing object (transparent that is), but the game basically works ?! so it looks to me there is some different problem yet.

if the game continues to crash you could take all your custom sw-jams away for a test (e.g. by putting them in another directory). if the game then works you could reinsert them one by one to find out which one may cause trouble.

last but not least i slightly recall there were several threads in this forum about tracks/jams that worked in hw-mode but refused to work in SW-mode and vice versa ?!
you find a collection of elder posts @ http://www.grandprix3.ch/TEIC/index.html, follow "forum posting collection". armed with some "find text"-tool you should be able to find things soon there ...

i hope it helps, and please keep us on current.
---
Converting jams HW to SW
Posted by Slygue from 172.189.11.6:

Hi, i was searching for this tutorial on the Isix's website but the link isn't working anymore. I wrote to Isix but no answer.
Does someone know where can i find it or send it to me by email if you get it.
Thanks & Cheers...

Posted by Flo from 193.159.13.106:

John also did a tutorial:
http://www.grandprix-x.com/gp3/convert.html
Posted by Slygue from 172.189.255.128:

Thanks Flo
---
Track Camera Unknowns??
Posted by Flo from 193.159.13.106:

Does anybody know the sence of the Track Camera Unknowns?
Or did anyone make a tutorial?
Thanks
Flo


---
GP2 tracks to Nascar 4?
Posted by Corey from 209.167.188.152:

How can you convert GP2 tracks to Nascar 4 Track files? Please write me Back ASAP!

Posted by gap from 62.211.61.144:

To Nascar 4? Strange, I never heard this one!!!

Posted by Willy from 203.54.78.101:

No one else has ever heard it either..Not possible...Nascar 4 is made by Sierria and GP2 is made by Micropose...they would have to been made by the same people, then u could convert...GP2 to GP3...durr and N3 to N4...not hard to figure out its not possile. same goes with same!
---
Generic Question to GP3 changes... (cc-cars run out of fuel)
Posted by Surscot from 212.221.245.217:

Hi to all.
i have a question to you.
how can i change the length of the race in the championship-mode under 10%? because in the last lap of the most races the cc-cars are rolling out without fuel!or is there another chance to change that bug? please post this forum or e-mail me. thx

Posted by gap from 62.211.250.6:

It is strange; what is your gp3 version (1.13, 2k)?
I tested a 10% championship with my gp3 1.13 at ace level, and I don't noticed any problem with the fuel strategy.
If you use GpxPatch, Peraphs you changed some values in the magic data of your tracks, or you installed new tracks with missed magic data. Try to restore the original MD files, or try lowering the CC fuel consumption in it;

If you DON'T use Gpxpatch, you need for it Sven Minthler's GP3 Master, but it works only with gp3 1.13

BTW if you want I think there's a way for decreasing the championship percentage below 10% by changing the bits at some adresses in the gp3 executable, but you must ask for it to SDI. I made so for the gear ratio's and it worked (almost) fine. Anyhow I think this trick will not solve your problem...
---
Please help! (Bumps and Gradients)
Posted by Kovats from 195.8.32.1:

I would like ask one question to the GP2 track editor experts in this forum. I downloaded an Oulton Park racetrack (made by Malcolm Mitchell and Warren Jenks) and there is a place on the track where the car acts like it would been run on bump on something. (It's in the set of corners after the first hairpin.) So there is a point on the track where the car shakes. I like this effect very much, and I would like to ask that if there is an option in track editing that can give the track this bumpier feel? I am new to track editing, and I don't know if there is an option to do this?

Thanks for your help!

Posted by Schubert from 203.197.33.199:

There's no option but it depends upon the track layout and height changes along that part.

All you can say is "Well done Malcolm and Warren"
Posted by Flo from 80.128.220.204:

I think it's possible to create this effect with the Bump Table or wihth track height changes.

Posted by Bob P from 65.94.94.66:

Right... with GP2, it had to be done by placing a group of length=1 track sectors and changing the heights dramatically for each one. Another place--IIRC--that this effect is VERY well done is between Untermatt and Quarry on Addie's Bremgarten (www.grandprix3.ch).

In GP3, of course, the bump table is the way. Much easier to do this way, IMHO.

Bob P
Posted by Flo from 80.128.220.204:

But the cc cars don't "feel" the bumptable.
They seem only to be influenced by track hight changes (and jumps...)

Posted by Schubert from 203.197.33.199:

I don't still know if itls possilbe with bump table.

So far, I thought the bump table was only affecting the Telemetry data and not the actual feel of the track.

The same effect is also found at Brands Hatch - (PK Arnall) It's nice!

Posted by Flo from 80.128.202.92:

In GP3 (and GP2 also, I think) you can feel the bumps.
Try e.g. the Paris track and drive over the cubbled stones, then you'll feel the bumps!


---
Shade on internal objects
Posted by Larry from 216.239.67.61:

On the original GP3 2000 Interlagos, there are two almost identical objects (id1=19 and id1=22). I placed them side-by-side for this screenshot (size 12k):
www.artoftom.com/gp3/shade3.jpg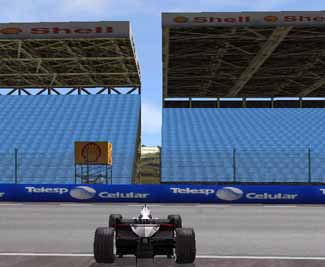 The ceilings of both stands are exactly parallel to the ground, I made the object definitions identical, they use the same jam, but one ceiling is darker than the other. I know that shadow can be adjusted on ribbons and fences but I've seen nothing for objects. I assume it's one of the unknowns in the internal object itself but which one?

Regards,
Larry

Posted by Larry O'Meara from 216.239.65.146:

I seem to have made a little discovery here. In internal object id1=22 in GP3 2000 Brazil, in the texture data (using PHTE), there is a second Hor Res value after the Vert Res in texture data 7. In fact it's not a Hor Res value but a Shadow/Brightness value. It adjusts that texture's brightness in a range from 0 (darkest) to 15 (brightest). Some other objects have this additional argument also so it can open up new possibilities! Is this something new or have I just missed this already known bit of information?
Posted by addie from 194.191.82.217:

i'm very pleased to read another unk bit the dust :)
thanks for the good news larry !
addie

Posted by Paul Hoad from 194.203.140.126:

Could you make a screenshot of the object data open in the editor, this may not just be a little discovery but a huge discover as this information is present in the carshape stuff as well as the object stuff!

Paul Hoad

Posted by Fat Rat from 204.244.113.85:

HI

Yes Larry that is a good catch ,
as soon as I saw the post , I thought now there an editor . Who's thinking with his eyes instead coder's brain .

Good Job
CU
Les

Posted by Larry O'Meara from 216.239.66.176:

I've done a screenshot and it's here (size 150k):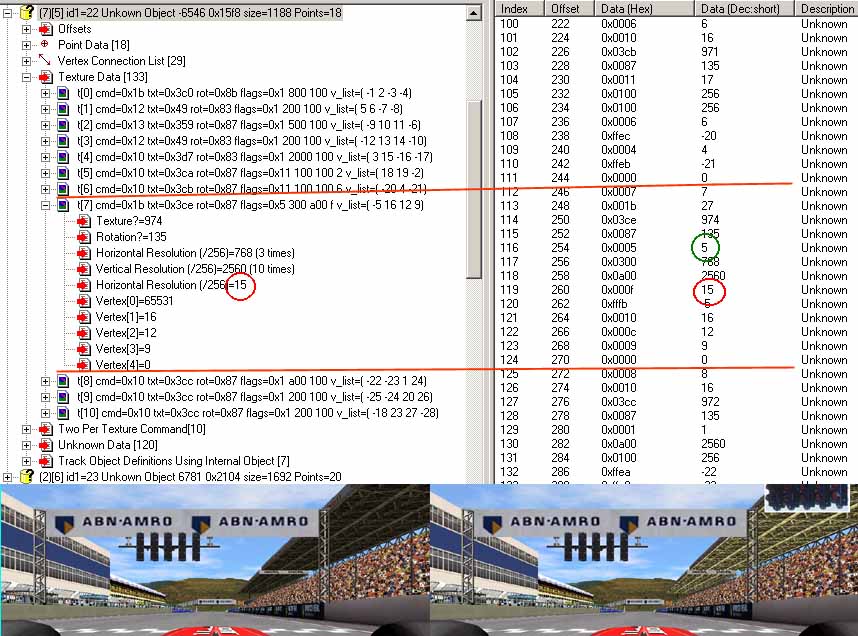 www.artoftom.com/gp3/screenshot.jpg
I hope this is what you were looking for. With the number circled in red at 15, you get the image shown at bottom right. With a value of 1, you get the image on the left.

The number circled in green seems to be a flag which determines what the next numbers represent. 1 gives you hor res and vert res. 5 gives you hor res, vert res and shadow/light. 16 and 17 seem to be used on triangular polygons like on the ends of a grandstand. That's all I've seen so far.

Regards,
Larry
Posted by Flo from 80.128.219.48:

Could it be possible then to shade parts of the carshapes too?
Posted by Hernan from 200.80.15.46:

Are you sure that is function of the argument?
You can see this second "horizontal resolution" args in the tent objects on the textures with 3 vertex (the triangle on the side of the roof) with a value of 1. I think is used to correct the deformation of the textures applied to that 3 side polygons, you can see that if the texture has vertical stripes, with a value of 1 they stay vertical if you increse the value to 2 or 3 the texture gets deformed and the stripes are no longer vertical.
I can email the screenshots if someone wants to see it.
Also sometimes there is also another argument under the mentioned here, unk5? that works like the vertical shift, I'm not sure about the values but they are high.

Hernan.
Posted by Larry O'Meara from 216.239.67.60:

Hernan, in case you missed this part of the thread:
http://www.mircx.com/cgi-bin/forum.cgi?forum=Tracked&message=8846
There, I stated my observations with a screenshot. I agree, the second "horizontal resolution" argument is not always a shade value, because it also depends on other arguments that are only available in the right window by double-clicking on the internal object in the track tree.
Posted by Hernan from 200.61.128.45:

Larry, you are right I missed that part.


---
Moving the Start/ finish line
Posted by Dave from 195.92.168.164:

I have been studying various tutorials from budding track editors but I have been unable to find info on moving the start and finish line. I am using an underlay bitmap and I want to move the Hockenheim start/ finish line in the right position of the underlay bitmap

Posted by gap from 62.211.61.172:

Hi Dave,
in the track tree double click:

track config - track sections,
then edit:

track start angle,
track start X,
track start Y

I hope I was clear...
Posted by Dave from 195.92.168.169:

Yep found it so I can finally create a track of my own.
Oh one more thing, just to make sure.. if I want to change a track section's angle, should I use the arrow keys to move the section to the angle I wanted or I double click then the track dialog will come up then i edit it

What you think guys?

Cheers for the reply, gap!

Posted by gap from 62.211.61.172:

my pleasure, Dave :)

regarding the track angles, the second hypothesis is the right one if I well understood; for more details see "the guide to track editing" from Addie Walti (http://www.grandprix3.ch/TEIC/tutus/index.html) and the gp2 tutorial from Paul Hoad (http://www.sportplanet.com/gp2/trackedit/gp2mytutorial.htm)

Of coure the last one is a bit dated but it still contains interesting descrptions of the TE features wtitten by his autor!

Out curiosity: what is the track that you're working on?

have a good job,
Gabriele

Posted by Dave from 195.92.168.164:

Cheers for the advice

Oh, I am trying to create a very short version of the old Nurburgring. I was disappointed that I cannot do the full23 kilometre version so I had to chop down to around 8 or 9km. Hopefully it will be loaded OK for GP3.
Posted by AD from 62.30.112.1:

You can get around 7.7km including the pitlane.


---
Custom GP2 Jams
Posted by AD from 62.30.112.1:

Hi,

I'm doing a wet GP2 Spa, and I want to change the Roadsgn.Jam and a couple of other 'intern1l' jams without affecting the originals. It is possible to have them in a custom directory? I tried with the TE, but it kept changing the path back.

Thanks in advance!

Posted by Andrew from 195.93.50.169:

its been a couple of years but it is possable on roadsign anyway (i think thats the start lights isnt it but i cant remember exactly) well if it is, look at martyns zandvoort track it has different start lights and that might give you a clue, i managed to do it a few years ago, but i cant remember, if you need more help contact me Via the Gp2.net boards!
Posted by Flo from 80.128.219.48:

I would just add a jam file with the same jam ID. GP2 should use the new jam instead of the old one then.
Posted by JeanA from 194.222.78.87:

using Marc Aarts Jam tool is the best thing for creating custom jams. GP3 Jammer is no good as you cannot change any of the jam sizes. with jam tool you cannot make a new jam from scratch but you can open and edit existing jams, do what you like with them, delete all the textures (bar the final one!) ,re-define the sizes of the textures,edit all the flags and move, add or reposition textures, its really the best tool for this job and you can work out exactly what to do after only a few minutes of playing about with it.

As for the Nordshleiffe, I think a scaled version would become a very difficult proposition with all the corner sections and climbing and dropping heights, you may not have enough space to move in

Have you thought about doing a fantasy Nordshleiffe? which takes the classic corners rather than all off them, The karrusell, Swallow tail, Bergwerk. The only problem s chooseing which ones to omit!

Regards

Jean




---
CC-Line changes after editing the track.
Posted by Flo from 80.128.219.48:

After I edited some objects and other things on my track, the last part of the cc-line changed (I did not change the layout or the cc-line). Does anybody know why this happened? Because it's a lot of work to redo the cc-line and then it get's messed up again :-(
Posted by Schubert from 203.197.33.199:

It happened to me too once. Fortunately i never did the complete CC-line. Only the first 4-5 corners
Wierd thing to happen and certainly very frustrating after all the hard work.
Guess the only solution is to do the cc-line after all is done.

Posted by Flo from 217.226.118.70:

The strange thing is that even if I enter the old cc-line values (from my backup track), the cc-line does not work right. And the problem only occurs in one of the last cc sectors...

Posted by addie from 194.191.82.34:

you changed some track-width ?
Posted by Flo from 217.224.21.139:

No, I only placed some texture commands and objects.

Posted by addie from 194.191.82.34:

you mean, some cmds 0xe9 and some 0x80 ? hm, i'd say there must have been somthing different yet !? or any very special object ?
or you rotated the track by changing with track start angle ?
---
Transparencies again!!
Posted by Andrew D from 203.173.164.70:

Hi

I am bringing this up again!!, but it has me confused.
Transperancies, i am using the same color as another jam file in my track, but it shows up with a brown background.
It is used on a fence extension if that makes any difference.

Cheers
Andrew D

Posted by gap from 62.211.250.49:

Hi Andrew,
it is hard to answer to your questions whithout some additional informtions:

-what are exactly the RGB values of your texture?
-are you working with software or hardware JAMS?
-have you checked the "trasparent" flag of the particular texture?
Posted by Andrew D from 203.173.168.62:

Hi Gap

Ok, here the info.
1. RGB Values Are : 0 , 252 , 248

2. Hardware Jams

3. In the jamtool editor, the transparent and 1x1000 flags are checked.

Cheers
Andrew D

Posted by gap from 62.211.61.189:

OK, this values are allright, but the strange thing is that: if I well understood, you can see a brown background in the place of the default traparent color 0,252,248 that is a light blue. I'm not sure I can help you, but please try decribing more in detail the problem, especially where you have assigned the texture.

PS maybe, the problem is with the fence: if you mean an armco, then you must convert the JAM in JIP file (but I'm not so sure about this last statement).

Gabriele

Posted by Flo from 80.128.221.28:

You can use normal jam files for fences.
If you want to make HW jams transparent, the colour has to be cyan (bright blue), if you make SW jams, it has to be brown.

Posted by gap from 62.211.61.218:

Yes Flo,
but it is exactly what Adrew have already made, if his informations are right: he assigned a JAM texture with light cyan trasparent areas (0,252,248) to a fence, so the problem can't be in here UNLESS Dave has missed something with his description.

Dave,
effectively it seems that you imported a bitmap from a software JAM (where the trasparent color is a kind of dark green-brown color) in an hardware JAM. Check it one more time; the software trasparent color RGB values are: 63,103,103

Posted by gap from 62.211.61.218:

Ops... omewhere I wrote Dave in place of Andrew. Sorry

Posted by Andrew D from 203.173.160.56:

Hey guys

thanks for the info.
The BMP file has the bright cyan blue colour as the background, behind the catch fencing.
It is used on the fence extentions.
I cant remember where i got this one from, but i know that is is a hardware jam as it is 24 bit (or 16 bit) i cant remember which hardware are!!
But when i go to the track and drive it, there is a brownish background, instead of the transparent background.

Cheers
Andrew D.

PS, will try and put a pic online to show you what i mean.

Posted by gap from 62.211.61.75:

Good idea, try posting a screenshot.
PS try to convert the hw JAM to sw, then play gp3 in software mode and see what happens.
Gabriele

Posted by James Knopp from 195.92.168.171:

Andrew, if you send me the JAM file i'll see if i can take a closer look
James

Posted by Andrew D from 203.173.164.171:

Hi

I feel like a dick!!!!
I was using photoshop, which seems (well my copy anyway) to put the green and blue values around the wrong way, as compaired to paintshop pro, and well every other program i have used, so it is working fine now.

Thanks everyone

Andrew D


---
Bug in Surfer's paradise (view distance)
Posted by Karl Sanders from 172.190.119.102:

This is one of my favourite tracks but there's a serious bug with the pop-up at the end of the lap. When you drive out of the last corner the pitlane and buildings dissappear and then reappear and you near them. I've tried adjusting the view distances, which I've done with success with other tracks, but nothing seems to fix the pop-up at the end of this track.
Can anyone fix it.
Thanks.
---
Ariel photos of 31 US race tracks
Posted by Malcolm Mitchell from 213.122.74.171:

All,

A good resource for those people making US tracks is this site: http://photos.yahoo.com/smithspeedway. It's got large ariel photos of 31 US race tracks.

Hope this is useful to someone - I had this forum in
mind when I saw all the photos.

Cheers,
Malcolm Mitchell
www.grandprix2.com/history
www.progcovers.co.uk
---
Grass Boxes!!!!!
Posted by Arexons from 200.181.82.252:

Hey, my boxes are cool, but the car has to stop on the grass, cause the right side of the pits is grassy!!!

Posted by Flo from 80.128.221.216:

You have to place a texture command with a road or tarmac texture id in the pitlane (see addies command library).


---
can somebody tell me what's wrong with this track?
Posted by Dave Hagenaars from 217.121.114.141:

i just made one minor adjustment to busstop and it doesn't load, everutime when i edit a track everithing works, but as soons as i alter the layout with 0.0000001 degree on one corner the game flips, as soon as i pres drive it hangs.

i have no idea what it could be.

http://members.home.nl/d.hagenaars/spa.dat

thanks in advance!

Posted by Kent from 62.254.128.5:

It is most likely the cc driving line, whenever you make an adjustment to any track section even minor changes, can cause the ccline to overflow and make Gp3 freeze on loading.

About the only thing you can do is backup up your altered Spa track file then remove the ccline sections from just before your minor alteration up to the last ccline section, then re-save your track (being careful not to overwrite your backed up version of course)and see if it loads.

If it loads OK you will of course have to re-build the ccline sections you removed and possibly fine tune the the ccline sections prior to your altered track section.

I hope this is of some help to you.

Kent
Posted by dave hagenaars from 217.121.114.141:

i cant remove the cc line, it says cannot call delete on this object!

Posted by dave hagenaars from 217.121.114.141:

didn't worked, even if i removed all the cc line the game still hangs after i pres drive!

anny other suggestions??

maybe you should take a look at the track, the link is in my first post!




---
Jip Files rotation. 0xe8
Posted by Andrew D from 203.173.160.233:

Hi

Pit lane markings from the jip files.
I am having a problem with the ratational values of them.
I have a pit lane on the left side of the track, i copied canadas pit bay jip file values, and for some reason the jip file id 839, the yellow diagonal and 844 the white version, dont point to the left, they point to the right, i cant figure it out!!! is there another set up value for it?
I tried the 0xe8 tutorial, but to no luck

Cheers
Andrew D

Posted by AKD from 203.173.160.233:

Hi
To add to this, i have tried to change the gridline.jip to gridleft.jip,, but the trackeditor wont let me change it.

akd
Posted by John Verheijen from 213.84.79.68:

You have 2 version of the jips.
1 is for the left and 1 is for the right side.
Take a look at the jip file at interlagos and melbourne
Posted by Andrew D from 203.173.168.243:

Hi

What i mean is, i know about the 2 different jip files, but when i goto change the gridline.jip to gridleft.jip, it wont let me.

I tried using Iso's track editor for this, but whenever i do anything in this, it crashes the track on loading.

Cheers
Andrew D






---
Index
end of list