---
Autodrome de Linas-Montlhéry
History by Dieter C. Serowy
The Autodrome Linas-Montlhéry was built in 1924 as a Brooklands-like 2,5 km oval-track with two banked corners near Paris, France. A year later a road-track was added to the autodrome. Montlhéry offered various track-combinations from 2,5 km to 12,5 km.
In 1925, Montlhéry was the host of the French Grand Prix for the first time. But the race ended up with a tragedy when Alfa Romeo-driver Antonio Ascari - the father of F1-World Champion Alberto Ascari - was killed in an accident.
Montlhéry was one of the most important tracks in France during the 1920s and 1930s and hosted the French Grand Prix seven times before the organizers lost this event to the circuit of Rheims in 1938.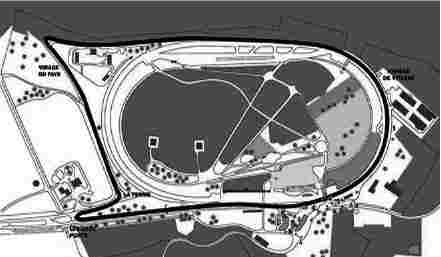 After the second world war, Montlhéry was well known for big sportscar-events like the "12 Hours" of Paris and the "1000 Kilometres de Paris". In 1964, another tragical accident happened at Montlhéry: Jaguar-driver Peter Lindner and italian youngster Franco Patria and three marshalls were killed in a terrible accident near the pits.

The track-layout had not been changed since the 1920s and the circuit appeared to be very dangerous - even in the mid-sixties, when drivers hardly seem to care for safety. After the accident some chicanes got added to track to prevent the cars reaching the pits at full speed. But those changes only delayed the decline of Montlhéry. 1970 saw Jack Brabham and Francois Cevert winning the last of the famous "1000 de Paris"-races in a Matra 660. Only minor national chmapionships raced at Montlhéry in the 1970s.
But the historical motorsport brought Montlhéry back in the spotlight in the 1980s. Today, the Grand Prix de l'Age d'Or is one of most important anual events in the historic scene. And even current international Motorsport returned to the legendary track: The BPR-Sportscar-Championship raced there in 1994 and 1995. Montlhéry is the last historical european circuit with banking still in use.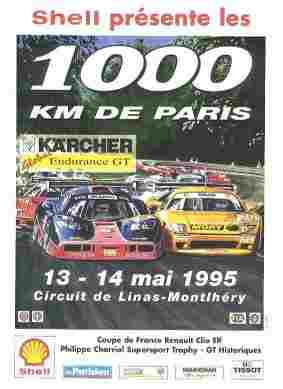 The GP3-Version features the 3,3 km track as it still used for todays events but without any chicanes - a pre-1964-version.
---
e-mail to Dieter C. Serowy <DCSWY@aol.com>