---
"Autodrom Most for Grandprix3"
directed by addie walti
---
install track for Grandprix 3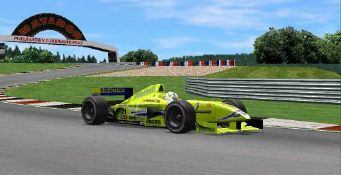 (Minardi from the 2000 carset of Jan Frischkorn)
1 a

for software version create a custom dir called:

MOSTJAM

in your GP3JAMS\ directory and copy the jam-files from most3_sw.zip into it. then run the included program convert.exe to convert the .jad-files to .jam-files.

1 b

for hardware version create a custom dir called:

MOSTJAM

in your GP3JAMSH\ directory
(please note the H at the end of the hardware jams-dir) and copy the jam-files from most3_hw.zip into it

2

then copy the trackfile f1ct10.dat to the CIRCUITS directory.
if you'd prefer the track in another slot simply rename it.

beware: you may want to save or rename your original f1ct10.dat before.

3

this track includes "magic-data" and therefore is best runned with gpXpatch of SDI.
see http://www.xs4all.nl/~rsdi/ for more info.

for info about "magic-data" and cmagic.exe of Marc Aarts, see http://home.wanadoo.nl/locutus/
trouble shooting
- if you get grey areas where custom textures should be, you missed the correct jams-directory name
- if gp3 crashes to desktop when loading the track you maybe mixed up the hardware- and software jams
- if it still crashes to desktop, you may want to try another slot (default slot: f1ct10.dat)
known problems
- more than average number of crashes in first chicane.
tried to improve but failed so far. specific ideas welcome.
- some hoovering bushes
---
thanks to
- Geoff Crammond and team for the incredible Grandprix X - serie
(please fix the unspeakable hoping-when-approaching tree objects!)

- Paul Hoad for the trackeditor
- Mal Ross for the jameditor
- garrenT for gp3jam
- Steven Young for GP3Edit
- Rene "SDI" Smit for gpXpatch and great research (in particular the list of asserts!)
- MArc Aarts for cmagic and convert.exe and www.grandprix2.com
- Sven Mitlehner for GP3Master and IDChanger
- John Verheijen for identifying the transparency flag in hw-jams

- Dieter C. Serowy for the gp2-version and for lots of discussion !
- the girls'n guys of Synetic and THQ for the great Autodrom Most track
for MBTR (and for the whole sim which is great and great fun!);
see http://www.mbtr.de
- MArc Aarts for testdriving and discussion, and help with the magic-data
- Tom Stuhrmann for testdriving, and help with the cc-cars setup (and the CD!)
(click here to down load Major Tom's setup for the "Autodrom Most")
- Simon Weber again for testdriving and discussion during development
- the trackediting-community for their research, tracks and tools
- Jan Frischkorn for the cars (see http://f1design.de/)

- Thank you to the beta-testers (alphabetical order)
Marc Aarts, Azzuro, Christian Bille, Niklas & Simon Dahlman, Dietmar Meul,
Dieter C. Serowy, Tom Stuhrmann, Ruben Vermeersch, Simon Weber

and Simon Weber for the final tests !

- And last but not least Evita for still being patient
---
---
dieter c. serowy, addie walti © 2001 All Rights Reserved.